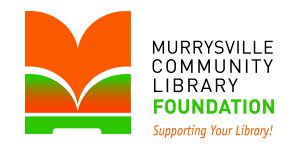 Serving: Murrysville, Export and Washington Township
"A library outranks any one thing a community can do to benefit its people." -Andrew Carnegie
June 2022
Dear Library Supporter,
Summer is here and with it comes your Murrysville Community Library's annual Summer Reading Program! For this centennial year's summer reading theme, Oceans of Possibilities, the Murrysville Community Library (MCL) librarians and staff will take the youngest members of Murrysville, Export, and Washington Township on a deep dive into rewarding reading challenges, exciting programs, and engaging activities, all designed to keep young minds active while out of the classroom.
The MCL librarians and staff are only able to provide year-round support and access to the best information available via print and online resources to the children in our community when they have your financial support. The Murrysville Community Library Foundation (MCLF) is solely dedicated to raising money to directly support the continued enhancement of the Murrysville Community Library, for current and future generations of library enthusiasts.
Please use the form below to donate to the Murrysville Community Library Foundation. It is your continued and generous financial support of the MCLF that ensures the dedicated librarians and staff at your Library have the resources they need to voyage the Oceans of Possibilities of Children's Programming, and equal access to life-long learning for all. Your donation today helps ensure your community library thrives throughout the next 100 years!
With gratitude for your continued support,
Connie Cauvel – President
Murrysville Community Library Foundation
Make checks to the Murrysville Community Library Foundation.
4230 Sardis Rd. Murrysville, Pa 15668
If you would like to donate online, please use our PayPal service:
Please include Summer Reading Campaign on the memo line of your check
or the Pay Pal donation page.